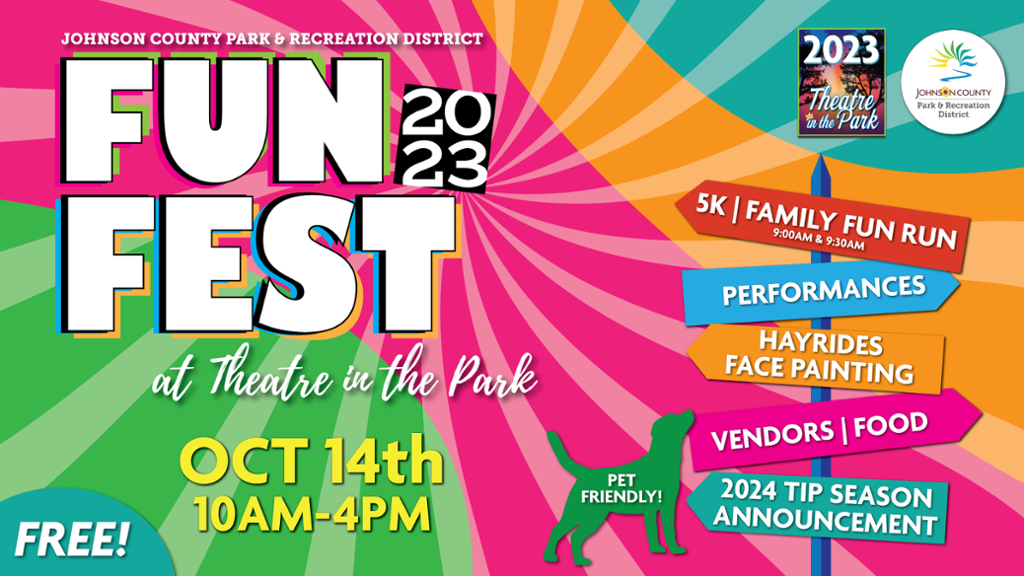 Announcing the FIRST ANNUAL FUN FEST at Theatre in the Park!
Join us on OCTOBER 14 for a FREE day of entertainment at Theatre in the Park!
Fun Fest is a FREE day fo FUN at TIP for ALL AGES!

Join us early for a 5K or a Family Fun Run, or dive right into the event with Vendors, Food Trucks, Concessions, Performances, Face Painting, Hay Rides, and MORE. Checkout the schedule of events below and if you have any questions feel free to drop us an email.

Our event culminates in a local cast of singers and dancers performing the 2024 TIP SEASON ANNOUNCEMENT SHOW on the Mainstage. Join us as we preview our exciting 55th year!

9:00AM & 9:30AM

Start your day off with a 5K (beginning at 9:00am) or a Family Fun Run (a shorter path beginning at 9:30am) at the TIP Pavilion. There will be photo opportunities throughout your 5K to take pictures with princesses, galactic heroes, and even one ON the Theatre in the Park Stage! Water bottles will be provided throughout the path by the Young Professionals Board of Safehome - a domestic violence shelter in Johnson and Miami County. Registration is encouraged HERE.

10:00AM

Join the Strawberry Swing Indie Craft Faire in the parking lot at TIP and shop local handmade goods from some of the top artisans in our area! (Vendors open up at 10:00am and will be open until the end of the event).

At 10:00am the bowl of the Theatre in the Park will open to get your seat for the performance day, or head to the concession stand for lunch!

10:30AM & 11:00AM

Join us in the Theatre Bowl for FACEPAINTING throughout the day from 10:30am until 4:00pm.

And be sure to hop on a FREE Hayride that will take you through Shawnee Mission Park and by Shawnee Mission Lake - available from 11:00am until 3:30pm.

11:00AM - 3:30PM

Join us for a JAM PACKED stage schedule with Family Musicians, Local Groups, Bands, and more to be announced soon.

SNEAK PEEK
TIP Fun Fest is THRILLED to have Kate Cosentino perform in her hometown at 2:15pm during the stage schedule of FUN FEST. Kate is a proud graduate of Blue Valley West and was recently seen on NBC's The Voice!

3:45PM

Join us in the bowl at Theatre in the Park at 3:45pm for a song and dance show announcing our 2024 Season! We've got a GREAT lineup of shows for our 55th year...you will want to be one of the first to find out!