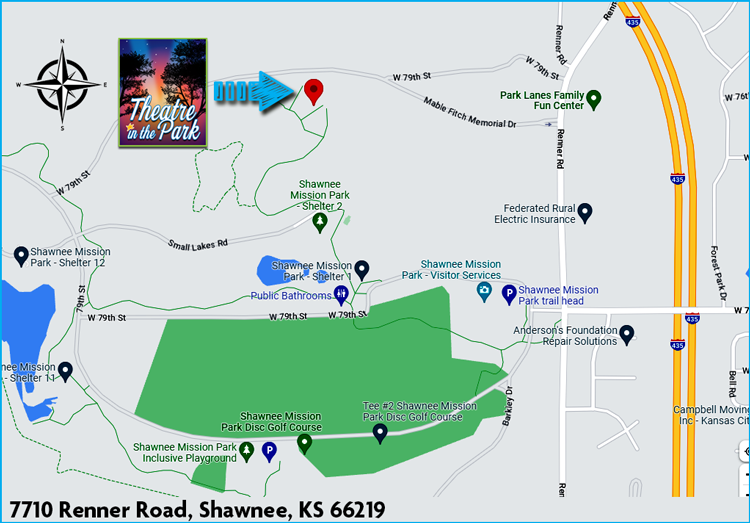 TICKETS
$10 plus tax for general admission
$6 plus tax for youth ages 4-10 - children 3 and under are free but require a ticket
Box office opens at 7:00pm on show nights
Gates to the bowl (seating) area open at 7:30pm
Performances begin at 8:30pm
Outdoor tickets are not valid or able to be exchanged for Indoor performances.
You can purchase tickets online anytime or at our box office at the theater (on show nights).
All TIP General Admission OUTDOOR tickets are ANYTIME tickets!
ANYTIME TICKETS can be used for any performance of any OUTDOOR production.
(Remember... all sales are final! Make sure to use all your anytime tickets by the last show of our outdoor season!)

MOVIES IN THE PARK TICKETS OUTDOOR at the TIP amphitheater
Gates open on movie nights at 8:00pm
Movies begin between 8:30pm and 8:45pm (Generally speaking, when it is dark enough... we start!)

RESERVED CHAIRS - OUTDOOR
We have 80 reserved chairs available for each OUTDOOR MUSICAL THEATRE performance (reserved seats are not available for movie nights).
Leave your lawn chair at home and still get a great seat! Arrive right before the show begins and still be guaranteed a prime seat! See the map below to see where in the bowl the reserved chairs are located. Reserved chairs may be purchased online in advance (recommended) or if available, by visiting the box office the night of the performance. Reserved chairs are $20 (plus tax) per chair.

Please note, this ticket covers entry as well as your chair, of course.
You may also CHANGE your reservation for reserved chairs up until showtime on the day of the performance!

ADA PARKING - OUTDOOR
Parking for our patrons with ADA placards at TIP's OUTDOOR amphitheater is located directly adjacent to gate #3 next to our reserved parking.

RESERVED PARKING- OUTDOOR
Want a guaranteed "short walk" to the gates of the OUTDOOR theatre?
Our reserved parking section just steps away from gate #3 is for you!
Reserved parking passes are available for only $5 and can be purchased online in advance!

FULL SEASON RESERVED PARKING IS ONLY $25! - OUTDOOR
Visit the OUTDOOR theater and see every performance of every show... and... park in the reserved parking area every time for a one-time fee of only $25 dollars! That's right! Visit when ever you like and park in reserved parking every time! Purchase full season parking passes directly online and don't even stand in line at the box office!
CONCESSIONS - OUTDOOR
While you're always welcome to bring your own food into TIP, there's really no need!
Our concession stand provides a wide selection of delicious menu items. Enjoy!

THRIFTY THURSDAYS - OUTDOOR
Looking for a bargain? Check out TIP OUTDOOR THRIFTY THURSDAYS and save 20% on anytime tickets!
Here's the deal: you have to buy your ticket at the box office, and you have to see the show THAT Thursday evening. We know... rules, rules, rules... but, hey... 20% off is 20% off! RIGHT?!

WHERE TO SIT - OUTDOOR
Part of our OUTDOOR seating area is for BLANKETS and LOW beach chairs only!!
Please don't save a seating area larger than a reasonable size to accommodate your group.
Ground-level-chairs (beach chairs that sit flat on the ground) are allowed in the blanket area.
If you have questions on our seating policy, please consult the House Manager or any member of our front-of-house staff. Look for this area for the blanket and low-chair section.


MISC INFO - OUTDOOR
Sorry, pets are not allowed in the Theater bowl outdoor (service animals accepted.)
Smoking is PROHIBITED inside the Theater bowl outdoor.
Please, no flash photography; it is VERY distracting to the cast and the audience.
Videotaping any performance is STRICTLY prohibited by our royalty contracts.
Please turn your phones to silent mode before the performance begins.
Have fun with Frisbees, balls, toys, etc. in the areas beyond the main seating area outdoor before the performance. BUT... once the performance begins, please have fun watching the show!
Please do not bring glass containers into the theater.
Only cast, crew and staff are allowed backstage.
Basic first aid supplies are located at the information booth by the flag pole.
Sunscreen and insect repellent are great things to bring along on your visit.
You can rent a tall camping chair or a beach chair at the Information booth for $5.
PLEASE REMEMBER, ALL SALES ARE FINAL.