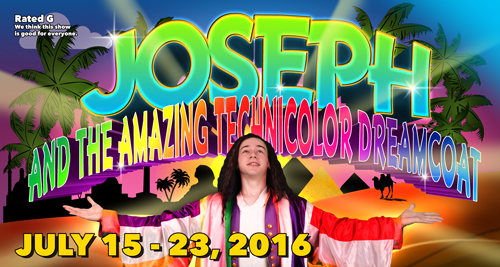 Lyrics by Tim Rice
Music by Andrew Lloyd Webber
Directed and Choreographed by: Guy Gardner
Musical Director: James Levy
Conductor: James Levy
Accompanist: Rachel Amparano
Scenic Designer: Michaela Stein
Costume Designer: Arwen Thomas
Properties Designer: Beth Stillwell
Co-Stage Manager: Rebekah Grieb
Co-Stage Manager: J. Patrick Inlow
Asst. Stage Manager: Amanda Albert

CAST
Joseph - Wesley Geil
Jacob - Trevor French
Pharaoh - Joel Morrison
Potiphar - David Thompson
Mrs. Potiphar - Celia Thompson

Reuben/"One More Angel" Soloist - David Thompson
Gad/"Those Canaan Days" Soloist - Carson Tate
Judah/"Benjamin Calypso" Soloist - Hewleek McKoy
Zebulun - Gabriel Lasley
Dan - Tanner Neath
Benjamin - Evan Nugent
Levi - Jeremy Walterman
Issachar - Jordan DeLeon
Naphtali - Max Mammele
Simeon - Ethan Platt
Asher - Zane Champie

Wife/Narrator ("Poor Poor Joseph" & "A Pharaohs Story) - Tori Loepp
Wife/Narrator ("Poor Poor Joseph" & "Poitphar") - Renee Blinn
Wife/Narrator – ("Poor Poor Joseph" & "Poor Poor Pharaoh") Abby Cramer

Wives:
McKenna Neef
Carlie Sherman
Nina-Sophia Pacheco
Alex Teeple
Whitney Armstrong
Laura Kariuki
Nicole McCroskey

Child Narrators:
Zoe London ("Jacob & Sons/Joseph's Coat" & "Who's The Thief")
Mia Kate Musick ("Prologue")
Brenna Nelson ("Prologue" & "Brothers Come To Egypt")
Devyn Trondson ("Go Go Joseph" & "Joseph All The Time")
Bridget Walsh ("Prologue" & "Stone The Crows")

Children's Chorus
Sophia Adams
Dominic Adams
Gracie Akers
Jordan Baker
Millie Bell
Hana Bowsher
Amber Bracken
Cole Bracken
Calvin Campbell
Kaitlynn Daniels
Veronica Dervin
Zach Dulny
Emily Elder
Ashley Eillott Rowe
Grace Fields*
Declan Franey
Sydney Gilman
Tiernan Hans*
Signe Hansen
Lizzie Hoedl*

Eli Hoedl*
Gavin Hoedl*
Mason Hoyt
Katie Hulla*
Maddie Huwe
Addison Landes
Laikyn Large
Lillie Large
Olivia Loepp
Zoe London*
Grant Martin
Julia Masterson*
Ava Masterson*
Collin Montgomery*
Kendal Montgomery*
Molly Moore
Elliana Moore*
Abby Morrison
Mylie Musick
Mia Kate Musick
Brenna Nelson*
Scarlett Nevins

Sawyer Nevins
Katie Noll*
Amber Nugent
Leah Pal
Emerson Pereira*
Samantha Peters
Autumn Quarles
Kiera Rader
Elayna Rodriguez
Claire Rupp
Eva Smith*
Madeline Smithson
Cole Southard
Tripp Starr*
Jamie Todd
Abby Trondson
Devyn Trondson
Bridget Walsh
Brooklyn Werth
Janey Wetzel
Michael Young
Angie Zumbrunnen*

*Featured Youth Dancer.
SYNOPSIS
Act I
The story is based on the Biblical story of Joseph, found in the Book of Genesis. It is set in a frame in which a narrator is telling a story (sometimes to children, encouraging them to dream) of Joseph, another dreamer ("Prologue," "Any Dream Will Do"). In the beginning of the main story Jacob and his 12 sons are introduced ("Jacob and Sons"). Joseph's brothers are jealous of him for his coat of many colours, a symbol of their father's preference for him ("Joseph's Coat"). It is clear from Joseph's dreams that he is destined to rule over them ("Joseph's Dreams"). To get rid of him and prevent the dreams from coming true, they attempt fratricide, but end up selling Joseph as a slave to some passing Ishmaelites ("Poor, Poor Joseph"), who take him to Egypt.

Back home, his brothers, led by Reuben and accompanied by their wives, break the news to Jacob that Joseph has been killed. They show his tattered coat smeared with his blood – really goat blood – as proof that what they say is true ("One More Angel in Heaven"). After the bereft Jacob leaves, the brothers and their wives happily celebrate the loss of Joseph.

In Egypt, Joseph is the slave of Egyptian millionaire Potiphar. He rises through the ranks of slaves and servants until he is running Potiphar's house. When Mrs. Potiphar makes advances, Joseph spurns her. Potiphar overhears the advances, barges in, sees the two together – and jumps to conclusions ("Potiphar"). Outraged, he throws Joseph in jail. Depressed, Joseph laments the situation ("Close Every Door") – but his spirits rise when he helps two prisoners put in his cell. Both are former servants of the Pharaoh and both have had bizarre dreams. Joseph interprets them. One cellmate, the Baker, will be executed, but the other, the Butler, will be returned to service. Upon hearing this, the rest of the prisoners surround Joseph and encourage him to go after his dreams ("Go, Go, Go Joseph").

Act II
The Narrator tells of impending changes in Joseph's fortunes ("A Pharaoh Story") because the Pharaoh is having dreams that no one can interpret. Now freed, the Butler tells Pharaoh (acted in the style of Elvis Presley) of Joseph and his dream-interpretation skills ("Poor, Poor Pharaoh"). Pharaoh orders Joseph to be brought in and the king tells him his dream involving seven fat cows, seven skinny cows, seven healthy ears of corn, and seven dead ears of corn ("Song of the King").

Joseph interprets the dream as seven plentiful years of crops followed by seven years of famine ("Pharaoh's Dreams Explained"). An astonished Pharaoh puts Joseph in charge of carrying out the preparations needed to endure the impending famine, and Joseph becomes the most powerful man in Egypt, second only to Pharaoh himself ("Stone the Crows").

Back home, the famine has caught up with Joseph's brothers, who – led by the brother Simeon – express regret at selling him and deceiving their father ("Those Canaan Days"). They hear that Egypt still has food and decide to go there to beg for mercy and to be fed, not realising that they will be dealing with Joseph ("The Brothers Come to Egypt"). Joseph gives them sacksful of food and sends them on their way, but plants a golden cup in the sack of his youngest brother, Benjamin ("Grovel, Grovel"). When the brothers try to leave, Joseph stops them, asking about the "stolen cup". Each brother empties his sack, and it is revealed that Benjamin has the cup. Joseph then accuses Benjamin of robbery ("Who's the Thief?"). The other brothers, led by Judah, beg for mercy for Benjamin, imploring that Joseph take them prisoner and set Benjamin free ("Benjamin Calypso").

Seeing their selflessness and penitence, Joseph reveals himself ("Joseph All the Time") and sends for his father. The two are reunited ("Jacob in Egypt") for a happy conclusion and Joseph dons his coloured coat once more ("Finale: Any Dream Will Do (Reprise)/Give Me My Coloured Coat").